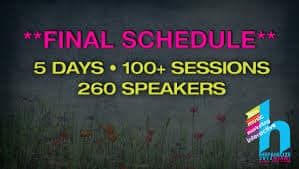 Whether you are going next week to Hispanicize 2013 in Miami or not, stay in touch with what's trending all overthe web (Twitter, Facebook, Google+ and YouTube) at #HISPZ13 by subscribing to my daily "All About #HISPZ13" newspaper here or returning to my blog.
The latest issue will be posted below and updated daily. Who knows you may even be featured!!!

Still curious what all the fuss is about? Hispanicize 2013 is the fourth annual Latino trends event for Latino influencers in social media, Latin music, film and marketing. We'll be invading Miami Beach, April 9-13, 2013 at the Eden Roc Hotel. Check out the teaser below and see for yourself how Hispanicize changes everything!
Now do you understand why it's a must-attend event if you are Latin or do business with Latinos..which is pretty much everyone right? You can still register here and see the final schedule by clicking here.
I'll see you in Miami or on on the web. Either way, drop me a line and say "HOLA"! It is called "social" media after all right? 😀
What panels are you curious about attending during the conference?