What I'm reading:
Forces For Good: The Six Practices of High-Impact Nonprofits
Written By: Leslie R. Crutchfield & Heather McLeod Grant
Who should read it: Anyone who serves on a non-profit board, is thinking about it, or wants to learn how to build a movement a person at a time!
Get your copy here

What I'm listening to:
Yolanda Be Cool & Dcup – We No Speak Americano
What I'm supporting:
Shakespeare Center of Los Angeles (shakespearecenter.org) has just released details for their firstevent of 2011, and it's a biggie: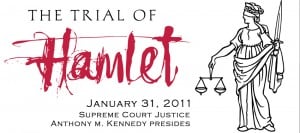 The Court will determine, once and for all, whether Hamlet was mentally competent at the time he committed the murder of Polonius before a Jury of 12 community members, including high school and college students, philanthropists, actors, and Los Angeles dignitaries
Deets you need to know: The mock trial will run from 7:30 to 10:30 p.m. on January 31, 2011 at USC's 
Check out what the Los Angeles Times's Culture Monster had to say here.
Tip: Get your tix asap here or don't say I didn't warn you when they are all sold out!
What I'm watching on the web:
1. The discovery and rise of Mr. Ted Williams (see my previous posts this week for all the updated 411)
2. The premiere of the 8 part webseries "Throwing Stones" which explores the world of high school with a twist. It is written and produced by Bart D. Van Bemmel and Jason A. Wheeler, based on a feature length screenplay of the same name. In a nutshell, it's "a group of high schoolers who have to attend Saturday School but quickly find out they must work together to overcome their differences in over to survive when students end up missing."
Check out their first episode here: