I'm excited to announce that the Kickstarter campaign for the webseries I am producing, co-wrote and starring in launched today!!!
Now that it's launched, the work of connecting "the funny" with the peeps out there in the world who can totally appreciate it begins!! Can you help us spread the laughs?
I have the "totally tubular" opportunity of playing Annabelle Rose Cooper – a proud Texan with a perfect college G.P.A. from the elite Middlebury College and dreams of making it BIG in Hollywood! The only problem is that there aren't many agents in Austin knocking down her door to sign her….actually, there's none.  Sooooo, the minute she hears her older brother Albie  has an unexpected vacancy in his LA bachelor pad, she feels her prayers have finally been answered and decides to fly out and move in!! From the minute she steps into "The PigPen" everyone's world is turned upside down, including hers. But enough talking…
Get a taste of what "The Pigpen" is all about for yourself by checking out our campaign page here: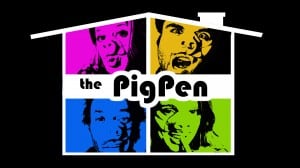 How you can help:
We have 41 days and counting to raise $10,000 to finish shooting the series and market it once it's done. As you may know, on Kickstarter you either raise all the money before your deadline or get none of it.
If you are a fan of webseries, comedy or the good ol' fashion underdog, then please consider supporting us in the following two ways:
1. Check out our video and pick a level you can donate at. Seriously, no amount is too small or too big!! As a thank-you, we have some pretty sweet rewards for you….not to mention the deposits you will be making into your Karma piggy bank for helping us out. 🙂
2. Spread the word of "The PigPen" Kickstarter campaign with your online friends and those you see in real life!!
In gratitude….
xoxo,
Lizza