Disclaimer: This is part of a sponsored campaign with Sears. However, all opinions expressed are my own.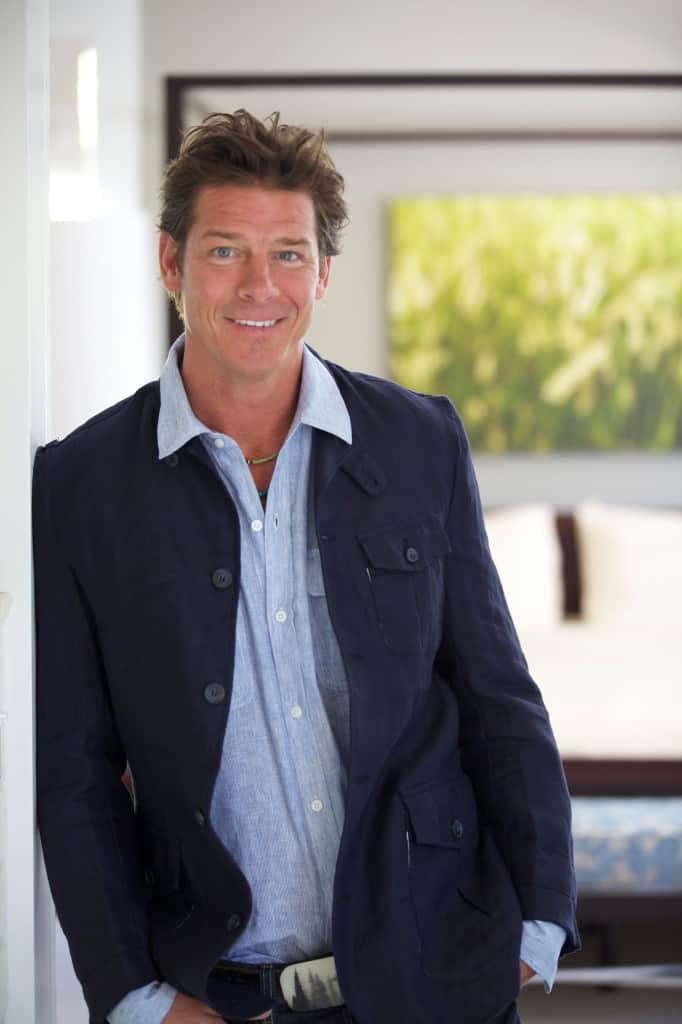 Lovebugs, can you believe Summer is just around the corner already? I have to admit I'm pretty excited for all the BBQ's in my near future. As a girl who is constantly on the go, I have a deep appreciation of the time I'm able to spend with my friends and family. So I'll use any excuse to have them over while I'm in town. However, I'd love to give my backyard a makeover before inviting guests over. Simply put, I'd love to add some pizazz to it!! I love color and have a bunch of ideas on my Pinterest. However, these days I'm low on free time and want to be mindful of my budget. So I have two key elements in mind for my backyard makeover: it can't be too costly or time consuming. Though this may be a challenging task to most, I knew I had found the man for the job when I heard celebrity designer Ty Pennington, had teamed up with Sears on a collection. Obviously, I needed to get his best decorating tips and pass those on to you as well. Insert dance break here!!! Say goodbye to an uninspired outdoor living space, by following these tips from the former Trading Spaces star.
Here are Ty Pennington's 7 Secrets to Creating an Outdoor Oasis:
1. Build your base, add over time – After envisioning your dream outdoor space, you can purchase an entire patio collection at once or build it over time, depending on your entertaining needs. Fortunately, the Ty Pennington Style Parkside Collection encompasses 20 matching outdoor necessities – from a loveseat and  ottoman to a dining table, umbrella and even a resin wicker swing. It allows you to make additions to your set on your own time. The collection is now available in three colors for custom personalization. I love, love this tip. It totally takes the pressure off of me having to get my whole "look" completed in one fell swoop.
2. Get to grilling – Whether you're a novice griller or a seasoned outdoor pro, Sears has the grills to match your space and skillset. With 40,000 BTUs of power, a side burner and two large wheels for easy maneuvering, the Kenmore 4 Burner Gas Grill with stainless steel lid is ideal of the beginning griller. If cooking for a crowd is more your style, consider the Kenmore Elite® 600 Series 4 Burner Gas Grill. With 694 square inches of total cooking area, 64,000 BTUs of power, and a cast iron side burner to cook side dishes and sauces, it's the ideal grill for the avid entertainer. Can I add that the space that each of these grills has is just perfect for a hotsauce and condiments addict…I may or may not be speaking about myself. LOL!
3. Welcome small spaces – Think your condo balcony or ocean-side deck is too small for outdoor entertaining? Think again. For an intimate yet eclectic look and feel, consider the extensive line of bistro and bar sets available at Sears. They are easily customizable and ideal for dining for two.
4. Go green and add some color – Nothing dresses up a patio faster than plants and flowers. Many planters at Sears coordinate with our patio collections. Refresh your patio with colorful rugs, pillows and cushions. In addition, a strategically-placed patio umbrella can do more than just block the sun – it can define your entire outdoor space. After all, summer parties should create a relaxed vibe.
5. Make your move, weigh your priorities – Summer is moving season. Whether you're moving from the city to the suburbs or from a single-family home to a condo in the city, match your outdoor entertaining to the space you have. If moving to a market with extreme climates, invest in durable furniture that can stand up to the environment. Consider patio furniture with a rust-resistant steel frame, UV-resistant fabric and an all-weather resin weave like the La-Z-Boy Charlotte 4 pc. Seating Set available at Sears. This set will accommodate your guests comfortably while upholding inclement weather for years to come.
6. Dine with family and friends – Party hosts know the frustration of carrying food back and forth between the kitchen and the backyard. Fortunately, the Kenmore 5-Burner Island Gas Grill with Refrigerator takes elements from the kitchen to the great outdoors. With a side searing burner, a storage cabinet, two storage drawers and a built-in refrigerator, hosts can focus on the food and their guests with fewer trips to the kitchen. You know my thoughts on working smarter, not harder. This totally fits the bill.
7. Consider your climate – The most popular patio sets on the market are made with either aluminum or steel. Steel is heavier than aluminum but can rust over time. Aluminum is naturally rustproof and generally requires less maintenance. For added protection, make sure your patio set has a heavy duty powder-coated frame if you choose steel.
Though I'm currently travelling outside of the country, the great news is that we can all easily order online and the collections will be available all summer. In fact, throughout the spring and summer seasons, Sears will offer a great selection of outdoor living collections and grills, including collections from Ty Pennington Style, Grand Resort, LA-Z-Boy Outdoor, Kenmore and KenmorenElite®.
ProTip: Want to create your own dream patio? Become a Shop Your Way member for FREE and enter for your chance to win the Sears Patio Sweeps at ShopYourWay.com/SearsPatioSweep a chance to win 1.5 million Shop Your Way points to bring your outdoor oasis to life.
And of course, visit Sears.com/outdoorliving to find more tips on grilling and outdoor entertaining.
Alrighty lovebugs, let's get designing shall we? As usual, I love finding and sharing ways we can all work smarter not harder. So it's a total bonus when the tips leave more money in your pocket too!
Awww, I can already smell the carne asada grilling from here, as I envision sitting back and relaxing in my new outdoor space. 😀
Seriously though, what does YOUR dream outdoor oasis look like? Send me a tweet or leave me a comment down below. Sending you all smiles across the miles!!!