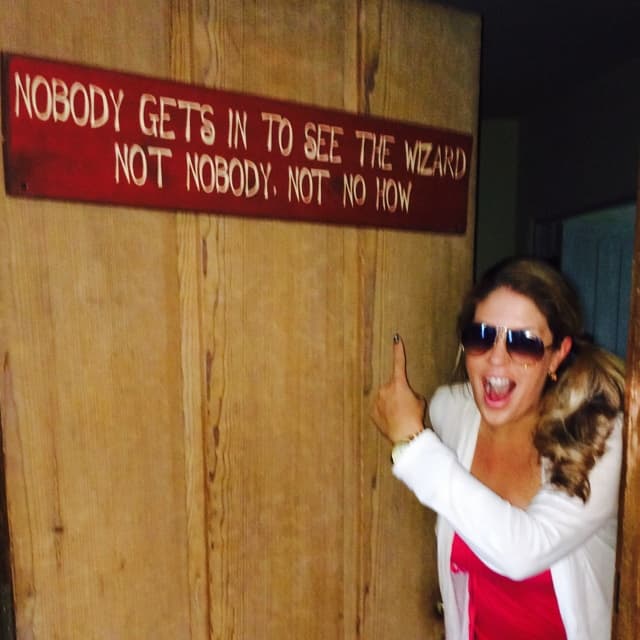 You know how they say as one door closes, another one opens? Well, when it comes to travel and adventure, I definitely go from one to the next, all magically linked by the Universe some how. Some might say it's kismet or serendipity, I say it's just another day as "My Life As Lizza".
Case in point, I stayed at Holman Ranch with my Mamacita a few weeks back and fell in love with the door you see above. You see, I'm OBSESSED with all things Wizard of Oz. Particularly, since I was named after Judy Garland…sort of. Lol. Seriously, this was my Mom's favorite movie growing up. So she had her mind on naming me 'Judith' after "Dorothy" herself. Only problem is, my Aunt beat her to the punch and took the name. Totally an awkward family moment. Not one to be defeated, my Mom decided she would name me 'Lizza' after Judy's daughter Liza Minnelli. She added the extra "z" for extra pizzaz and an accent mark over the "i", just to make sure my name was uniquely its' own after the whole 'Judith' debacle.  And the rest as they say, is history!! This set me apart from the jump and kicked off my one-of-a-kind journey through life and personality.
As a kid, I always wanted to be IN the "Wizard of Oz". Let me be clear, I didn't want to be in a stage version or dress up as "Dorothy" for Halloween. Though I admit, both of these are pretty cool too. I, however, wanted to be INSIDE the "box", aka the tv. I vividly remember running around the tv on various occasions, trying to figure out how I could get inside. The world of make-believe was totally real to me and my love for performing broke through at a very young age. From the moment I saw the "Wicked Witch of the West" threaten to take away "Dorothy's" red ruby slippers, I was plotting against her.
Even as little lovebug, we're talking age 3 folks, I totally believed in my #PowerLatina powers and had a clear shoe addiction. LOL.
I was totally enamored by that darn Yellow-Brick-Road and wanted to join the whole gang as they made their way to see the Wonderful Wizard of Oz.
Obviously, this was one wish that went ungranted…until now!! I may not be able to join the original cast "in" the film but I am being whisked away to Kansas for my own Dorothy inspired road-trip!! Wait for it…..EEEKKK!!!
Here's the scoop, I'm one of seven road trippers Ford has selected to help launch their new Ford Transit Connect Wagaon, aka the ultimate #UNminivan. You'll remember a few weeks back, I test drove one, aka "Mr. Speed Racer", when it launched in LA. This time around, I'll be paired up with one of Mr. Speed Racer's cousins and I'm hitting the road "Oz" style to create my own #UNminivanMoments with my friend Maya, aka "Maya In the Moment".
The "#UNminivan" moments campaign is all about a series of adventures that reconnect people with America's unique attractions in a vehicle that is as uniquely different as the people, places and surprises encountered along the way. During my customized road trip Ford created for me and my "Wizard of Oz" roots, you'll get a behind the scenes look at the quirky personality of the Transit Connect Wagon as well as the opportunity to get up close and personal with Maya and I.
Just like my fellow road trippers and I, the Ford Transit Connect is not at all typical. It bucks the stereotype of what a minivan should be and instead celebrates how uniquely different it is. Not only is it spacious inside, from front to back, and hooked up with all the latest bluetooth technology, it also is super comfy to sit in and drives like a car. Two key elements when going on any type of long term road trip!! And last but not least is the variety of awesomely BRIGHT colors it comes in. I seriously would get one in every color if I could. LOL
But you don't have to take my word for it, you can join in on all the fun as Maya and I make our way from Denver, Colorado to Kansas City, Kansas over the next week in search of the Yellow Brick Road!! I'm told there will be some cool surprises along the way and I can hardly wait to get started. Make sure you are following @xoxolizza and @mayainthemoment as well as the hashtags #UNminivan, #UNminivanMomements and #LizzaOnTheGo on Twitter, Instagram, Vine and Facebook to stay in the loop.
And of course, if you see us driving or are going to be in the area, feel free to send us a tweet or leave a comment below. I'd love to give you a squishy hug in real life!!
Alright, I'm off to pack lovebugs. I'm officially #OZBound.