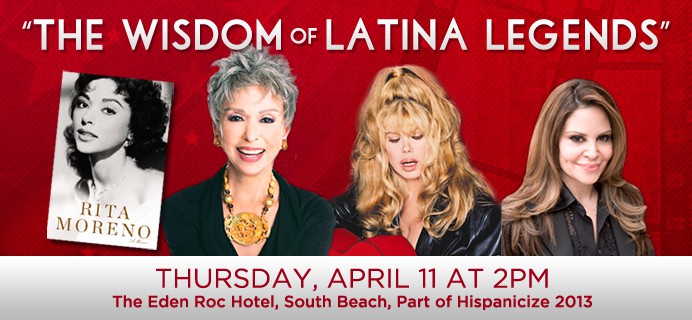 EEK!! As if I'm not excited enough about next week's Hispanicize event in Miami, this just blew my socks off!!
If you are a Latina, the three faces above should mean something to you. Can we say trailblazers? If they don't, I'm going to assume you have been living under a rock.
Rita Morena and Charo were paving the road for all Latina entertainers during a time when being Latin was something people shyed away from if they wanted to get ahead in business. And Nely Galán has been trailblazing since she was kid..seriously. I couldn't think of a better person to moderate….other than me of course. LOL!
As a member of the Adelante (Move Forward) Movement  since it's first event in LA back in 2011, I am so proud of the community of Latinas that have formed. I couldn't be more thankful to Coca-Cola for their continuing support and sponsorship of this great organization founded by Nely Galán herself.
For those going to Hispancize next week or are simply in Miami, this is a must-attend panel. In case you needed another reason to attend, now you have it!
"We have created a program that focuses on bringing Latinas the remarkable stories and careers of women who came before us," says Galán. "We want to bring Latinas at Hispanicize the secrets of how these women have managed to move beyond stereotypes to break new ground, challenge and reinvent themselves, stay healthy, build financial stability and long-lasting careers which continue to flourish."
"We believe that the Adelante Movement is a powerful way to bring women together to create positive change." said Lauventria Robinson, VP Multicultural Marketing, Coca-Cola North America Group, "Coca-Cola is proud to be a part of this movement to empower the Latino community."
The program takes place on Thursday, April 11 at 2 PM at The Eden Roc Hotel
Tickets are FREE and you can get them here.
I would loovvveeee to see you there and connect in person!! Of course, I'll be live-tweeting so make sure to follow me on Twitter @xoxolizza and join the fun.
It is sure to be an exciting discussion on economic and personal empowerment, career and financial success, as well as health, wellness and longevity.
BONUS: If you aren't going, you can still get a copy of Rita Moreno's memoir by going here. Also, make sure to like the Adelante Facebook page and follow them on Twitter.
Want to join the Adelante Movement and register for upcoming events? It's easy, visit them at http://www.TheAdelanteMovement.com
See you soon Hermanas!!