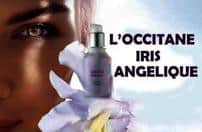 Ok ladies, make room in your bathroom counters because there are TWO new products you will definitely want to try out this summer to achieve that flawless nude look. While they won't be hitting L'Occitane store shelves or L'Occitane.com until June 5, 2013, you can check out my sneak peak below: L'Occitane is debuting two new Iris Angelica for Sublime Skin Products, that when used together give you that radiant healthy "no makeup" glow.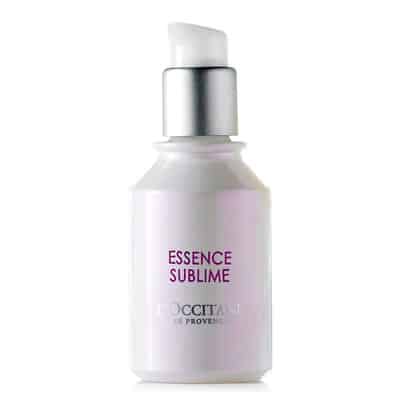 The first is the Sublime Essence serum, which comes packaged in a 1 ounce glass bottle and retails for  $52. This skin perfecting serum can be used on any skin type or tone since the sheer formula will be absorbed by your skin. Cue the happy dance here!!! The Sublime Essence has a velvety texture and a fresh Iris scent, which is due to the white and blue iris's it contains. The formula also includes organic angelica water and angelica essential oil. This unique combination of the two flowers in their formula boasts the following six benefits for skin irregularities: 1. Skin's texture is visibly smoothed and refined 2. Pores look instantly tightened 3. Redness and blemishes appear reduced 4. Complexion is more radiant and even-toned 5. Skin is hydrated and plumped 6. Skin touch is ultra soft and velvety Personally,  I am especially pleased by the fact that it is silicon-free!!! I think that totally calls for a toast with Leonardo DiCaprio, don't you? As far as application goes, it is HIGHLY concentrated so you will probably only use one pump, maybe two at the most. Since it is a serum, it is going deeper into your skin than a typical primer. Which means you'll notice a visible difference after repated use in the overall texture of your skin.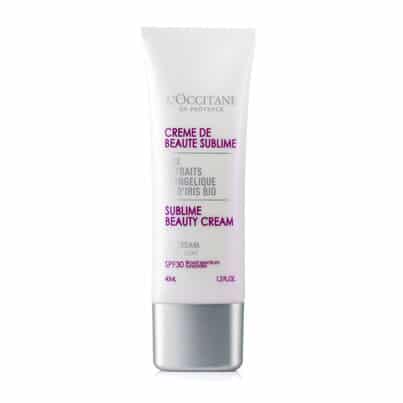 The second product is the Sublime Beauty Cream, aka L'Occitane's entry into the BB cream world. It is currently available in two shades: Light and Medium. I went with the Medium to fit my light but olive toned complexion. It comes in a 1.4 oz tube and retails for $39. Like the Sublime Essence serum, the Sublime Beauty Cream does have a hint of an iris smell to it. It also has SPF30 in the formula but surprisingly doesn't weigh down the product as I've seen it do with others. Since it is a skin care product, as opposed to makeup, you will find that it is highly concentrated. Which is great news for your skin AND your wallet.  This tube should last you longer than last seasons meggings fad…let's hope so anyway! Seriously though, you will need to use LESS than you probably even think you need. According to New York celebrity makeup artist, Andrew Sotomayor: "Not only does this product offer sun protection, moisture, and coverage, but it's super charged with botanical ingredients…so a pea sized amount is enough for the whole face. For the most natural look, I recommend applying this product with a wet foundation sponge. Focus on the areas most exposed to the sun."  I used my Beauty Blender to blend it out and it gave me an lightly enhanced look when it came to coverage that still looked natural and smooth. If you're a girl-on-the-go like me, you'll find these two products with your favorite blush, mascara and lipstick will be all you'll need to recreate that healthy nude look that is so popular in the summer. As you can see in the video and below, it was a great go-to look this weekend when I was out running errands.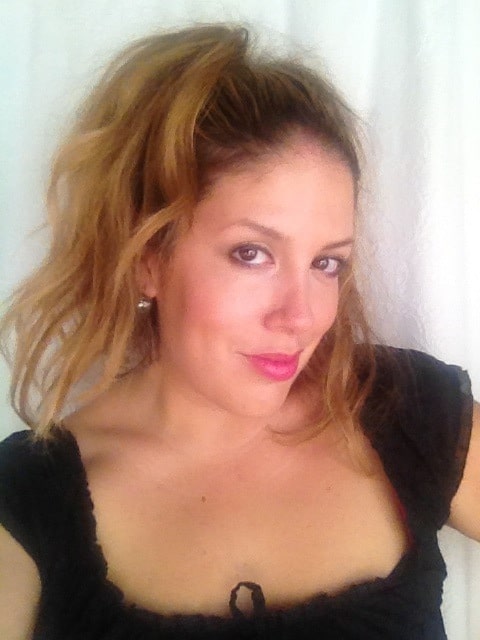 What are your must-have beauty products when you're on the go? Let me know in the comments below or send me a tweet. Psst. Make sue to come back to this post later this week, I have a fun update that I think you'll like!!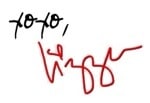 *Please note, L'Occitane did send me the products to review but all thoughts are my own.