Whether your loved ones have been naughty or nice, spread some Christmas cheer with a personalized call from the big man himself!! 🙂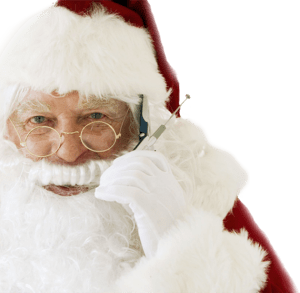 Thanks to Google, you can send a personalized phone call AND video from Santa to your loved ones of all ages by visiting:  http://www.sendacallfromsanta.com.
If you are trying to track Santa you can visit http://www.noradsanta.org and track where Santa is with the help of Google Maps and Google Earth on his Christmas Eve journey around the world.

Or you can call NORAD directly and ask "Where's Santa?" at (877) 446-6723 if you are in the United States or (719) 556-5211 if you are overseas. The NORAD Tracks Santa Operations Center has been open since 6 a.m. Eastern on Dec. 24th and will stay open until 5 a.m. Eastern on Dec. 25th.
Psst…first lady Michelle Obama is back again this year to answer calls from curious kids wanting to know Santa's location. So you might get an extra treat when you call.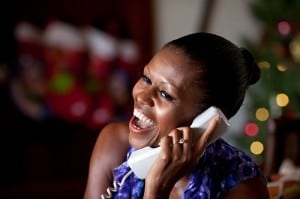 (image courtesy of the White House)
If you're on Twitter, follow @NoradSanta for real time updates!!
And for those little ones who still need a little convincing, check out iCaughtSanta.com and get your photographic proof of Santa caught in the act.
Ahh…you gotta love technology. 😉
Merry Christmas!!!
xoxo,