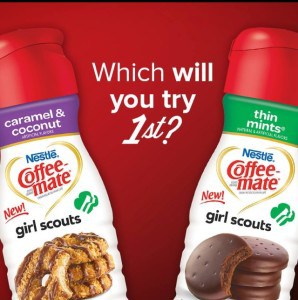 PERFECT 10 Tip Of The Week: July 29, 2013 – August 2, 2013EEK!!  I have literally discovered Heaven on Earth and can't wait to share it with you. Seriously, using these little hidden gems you'll turn an ordinary day into a #Perfect10 ….because it's exaclty that, PERFECTION!!
I just came back from Chicago, where I attended BlogHer '13, and haven't stopped thinking about..dare I saw dreaming about….wait for it…CREAMER!! Now this isn't your standard run of the mill creamer. No sir! I'm talking about the new Coffee-Mate creamers flavored after the top selling Girl Scout Cookies: Thin Mints & Samoas (caramel and coconut).
Seriously people, this is something you must RUN not walk to your local supermarket or Target and get some today! Your coffee AND your tastebuds will thank you…trust me.
Save time and gas by clicking here and figuring out a store near you that carries it.
And if coffee isn't your thing, no worries, I've got your covered.. Can we say MILKSHAKES!!! If you weren't bringing the boys to the yard before, after one sip. you won't be able to keep them away. 😀 I'm hooking you up with this super yummy milkshake reciepe straight from the Nestle test kitchen to get you started.
Now, you'll only have one small problem: which one will you try FIRST? Send me a tweet or let me know in the comments below.
Personally, I can't get enough of the caramel and coconut creamer. It instantly brings back memories of  eating frozen Girl Scout cookies with a tall glass of milk on a hot summer day….that may or may hot have been last week… I'll never tell!! LOL.
But if you are a die-hard Thin Mint'er, then here's a recipe just for you: Thin Mint Chocolate Drizzled Pretzels (say it with me…oooh….ahhh….oooooo)
I really don't know how they did it, but Coffee-mate has concocted the perfect liquid cookies!!
Now you may no longer be a Girl Scout youself, but maybe you have a little one or have a neighbor who  is. If so, pick up the phone or send them a tweet and let them know about the nationwide Coffee-Mate Casting Call in search of the "face" of their next commerical. Click here for all the details.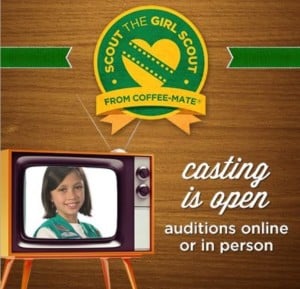 If your little rockstar in green can't make an open call, she can always upload a video audition.  Shooting it off your smart phone couldn't make the whole process easier. Especially when you have Net10 Wireless as your carrier. The simplicity and low-cost of Net10 Wireless phone plans makes have a smart phone hassle-free.  Not only do you get all the great savings of a contract plan without the contract but you can feel secure knowing you receive Nationwide Coverage on America's Most Dependable Networks.  Plus, there is no activation or cancellation fees. Check out the current deals on Net 10 Wireless Latino's Facebook for more info.
Is there a Perfect 10 tip you think I should know about? Send me a tweet or leave it in the comments below.
Till next time lovebugs….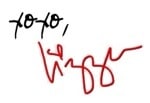 *Disclosure: This post was sponsored by Net10 Wireless but all opinions expressed are my own.