EEK!! Just as I was getting ready to walk away from the addiction that is Cityville (and any other Zynga game) guess who moved into the neighborhood today??
MICHAEL BUBLE!!!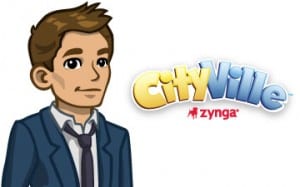 Doesn't his avatar look cute? In true Zynga fashion, CityVillers have a series of quests  in order to win some fun goodies from the GRAMMY-award-winning crooner. As you can see below, one of the quests includes players having a holiday bonfire with his band.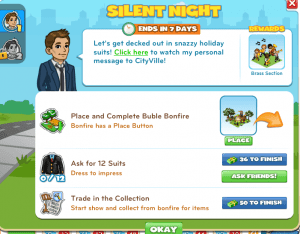 EEK!!, if only this were a real life quest!! I hear that the quests will include some of Bublé's his favorite things like a turntable, a Segway and even a hockey stick in homage to his Canadian roots!! Once all quests are completed, an exclusive video from his Christmas album is unlocked!!
In the meantime though, Bublé doesn't leave his fans hanging, to get you started he made a special video greeting for CityVillers which you can see below:
The timing couldn't have been better, as dedicated CityVille gamers know Zynga gave the ol' neighborhood a Winter Wonderland makeover for the month of December. And unless you have been living under a rock the last couple of weeks, you probably have heard his cover of Winter Wonderland or one of the other fabu off of his Christmas album. Which at the time of this writing, took the #1 spot on Billboard again with over 448,000 copies sold this week alone.
His version of "All I Want For Christmas Is You" is one of my favorites, which was playing as I wrote this and you can listen too as well below. 😉
Bublé now joins Zynga's growing list of entertainers, like Michael Jackson, Enrique Iglesias and Lady Gaga and popular consumer brands like McDonalds and Best Buy who have all integrated special promotions within several of Zynga's games.
Not to be left out of the party, the entertainment app GetGlue has jumped in on the fun and will reward those who "check in" to the Michael Bublé quest on CityVille with this limited edition Michael Bublé badge:
Pretty cool huh? Ok, we only have until December 27th, 2011 to finish the quests, so it's time to get clicking..LOL
Whether you are a new CityVille player or have been building your neighborhood building since the beginning, do promotions like these entice you to stick around and play…or is that just me? 🙂
XOXO,