EEK! One of my favorite things has always been discovering "easter eggs" in video games, movies and even GOOGLE!!
Earlier this year, I was jumping for joy when I discovered the power of Google's "your wish is my command" style of easter eggs like the popular "DO A BARREL ROLL" which sends your screen a spinning!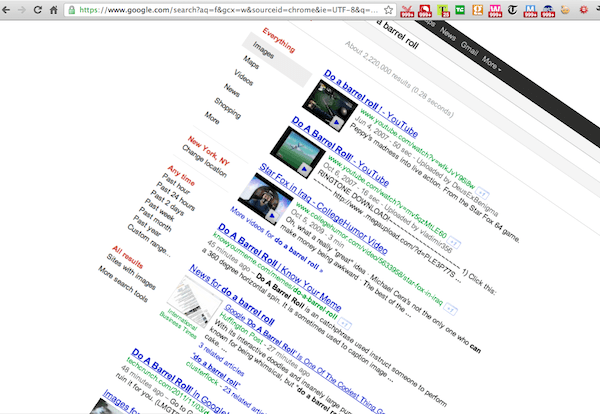 Pretty fun right?  Shout out to my fellow video game fanatics, who might enjoy knowing this  easter egg is actually a reference to the Nintendo game, "Starfox". In the game, your  Rabbit wingman Peppy tells you to "Do A Barrel Roll" to evade enemy missiles! Love it!
And now, here's your perfect holiday Easter Egg to play with, type "LET IT SNOW" into the Google search bar. Viola! Just like that the Google Genie creates snowflakes that fall down your screen. Eventually, your search results page will get covered up by the clouds but you'll know when to take action because your Google search button turns into a defrost button. 🙂
I totally think Google's Easter Eggs are the bee's knees. Which ones have you discovered that you really like?
I look forward to the new ones they create in 2012.  In the meantime, curl up with your favorite drink, hit play below and watch as Bambi discovers snow for the first time and  Dean Martin sings "Let It Snow"!!! And then of course LET IT SNOW on your screen too…if you haven't already. 😉
*The Google easter eggs work on Chrome and Firefox. As of this writing, they only work on Safari if I'm using my iPhone.
XOXO,
Lizza