I don't know about you but with Halloween just around the corner, my sweet tooth is on overdrive.
So I was over the moon when I found this FABU pin on Pinterest that makes making caramel apples as easy as one, two, three!
You still get all the sweetness but you leave the sticky mess behind. I dare you to have just one. 😀
What's your favorite sweet treat for Halloween? Let me know in the comments below.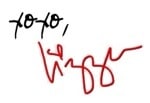 ---