Ok, if you're like me, on some days no matter how hard you try your hair has a mind of it's own. Can I get an AMEN? Well ladies, I think I found the perfect solution. Check out this fun pin I found on Pinterest that makes taming your wild hair a thing of the past and gives you cute bangs to boot!! Now here's hoping it's as easy as the photo makes it look. LOL.
Check out the step-by-step video tutorial here.
What's YOUR go-to hair do on days that your hair just won't cooperate? Let me know in the comments below.
Clearly if you end up rocking this bang style, I totally wanna see!! So make sure to take a pic, send me a tweet and tag it #InstaLizza!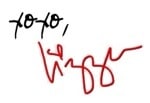 ---