This is a compensated campaign in collaboration with NEUTROGENA® and Latina Bloggers Connect. All opinions expressed are my own. xo
Hello lovebugs!!!
As a girl that's been on her fair share of red carpets and is on camera quite a bit for work, I'm delighted to partner with Neutrogena this week to share some of my favorite tricks of the trade to getting the perfect selfie!!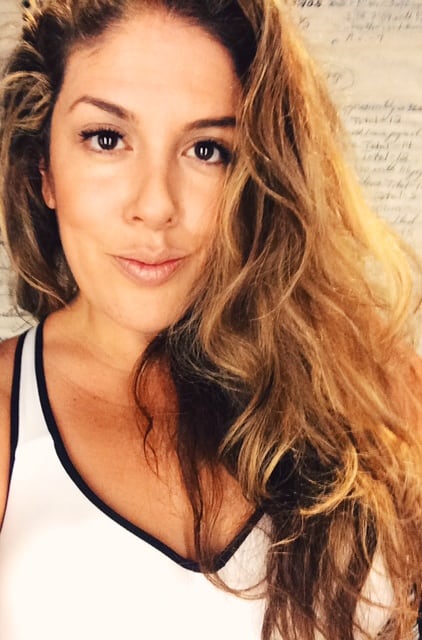 TIP #1 – ROCK YOUR CONFIDENCE: Hands down, the foundation for a priceless selfie is confidence. You gotta rock beauty from the inside out. Fun fact, the act of smiling alone sends a message to your brain that you're happy. And when you're happy, a bunch of feel good endorphins are released inside of you and spread all over like rays of sunshine. Ultimately, when you feel great about yourself, it literally pours out of you from you head to your toes! Not to mention, smiling is contagious!! I'm actually sending you hugs and smiles across the miles! Send me a tweet or leave me a comment down below if you felt it. 😀
TIP #2 – RELEASE YOUR INNER GLOW: Having healthy radiant skin is an immediate confidence booster. I've been using Neutrogena's Acne-fighting line and not only love the fresh grapefruit smell but totally am gaga over the results. Since I'm on the road constantly, I need a daily beauty regimen that is simple, yet extremely effective from keeping uninvited acne from photo bombing my selfies!!  After a long day working, sometimes just the thought of washing my face seems too much. But as we all know, it's a cardinal beauty sin to go to bed with a full face of makeup. Not to mention, it just feels gross. So, it's great to know I can reach for my oil-free cleansing wipes (SRP $7.99) and in less than a minute throughly clean my skin of the day's pore-clogging filth that's accumulated after running around. It seriously takes the chore out of cleaning your face. Though admittedly, after using these wipes, the yummy grapefruit scent totally reenergizes my senses enough that using the oil-free acne wash facial cleanser (SRP $6.99) right after feels like a bonus perk.  Like the wipes, the cleanser also smells like grapefruit and contains a blast of Vitamin C. It also packs a special punch, by using Neutrogena's revolutionary MicroClear technology to push medicine deep into pores. Not only do these scientifically-proven ingredients fight the acne you see, it also targets the acne forming below the surface. YAY!! It's super gentle, which means you can use it day and night without worrying that it will dry you out. For those whose skin might need an extra does of TLC, don't worry, Neutrogena has you covered. The oil-free acne wash foaming scrub (SRP $7.49) has microbeads inside that gently smooth away roughness without irritating your skin. Since it is a scrub however, I would recommend using it once a week to start off. You can always increase the amount you use it, if the daily use of the two other products isn't keeping your acne at bay.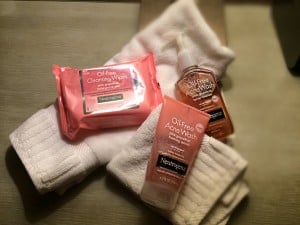 Tip #3  – STEP INTO THE LIGHT:  There is a reason that tv shows, film productions and even photographers spend quite a bit of money to get the right lighting, it can make or break a photo. Which explains why there are so many apps on the market now to help you recreate it. However, it's pretty tough to beat the natural filter mother nature herself provides during the "golden hour".  According to Wikipedia, "the golden hour (sometimes known as magic hour, especially in cinematography) is a period shortly after sunrise or before sunset during which daylight is redder and softer compared to when the Sun is higher in the sky." Essentially, it gives your pictures this beautiful glow. "Because the contrast is less during the golden hour, shadows are less dark, and highlights are less likely to be overexposed." Depending on your location, the time of magic hour will vary. So how do you figure out what time to prepare to shoot? As you might have guessed, there is an app for that. 😀  It's actually called Magic Hour (free) and not only tells you when magic hour is for your location but how long until it begins and can even send you a reminder notification so you won't miss your closeup. 
If you are shooting indoors, than a ring light is the way to go or sitting by a sunny window!!  If you have neither available, another cool trick is asking a friend to point the "flashlight" from their cellphone onto you, as someone else takes the picture with your phone or camera.
Tip #4 – CHOOSE YOUR SURROUNDINGS WISELY: You've heard the old saying that a "picture is worth a 1,000 words" and "every picture tells a story". So why not use your selfies to tell YOUR unique story?! While you might showcase  your #makeupoftheday in one selfie, you can totally share the spotlight with a famous landmark in another or capture one of the many priceless moments that happens during your next girls night out. And yes, while having more than one person in a picture technically makes it an "us-ie", who's counting? After all, that Oscars selfie that went viral, probably wouldn't have been "the most tweeted photo of all time" had it just been a single photo of Lupita Nyong'o's brother! Just saying.
TIP #5- USE A FRONT FACING CAMERA:  If you are using your smartphone to take a selfie, remember that your phone's main camera always has a higher resolution than the front facing camera it comes with. So shoot a few of them with the main camera, instead of always defaulting to the front facing camera. Why that matters? Your pictures will appear less grainy and the skin tone will also look more realistic. Granted, it may require that you take a few more selfies than you originally planned, but again, who's counting? Depending on where I am, the front facing camera usually does the job.  However, when in low lit areas, I know I really need to let the main camera do the job if I don't want to look like a grainy mess.
GIVEAWAY DETAILS: 
You've read the tips, now it's your turn to point, smile and click!! I want to see YOUR best selfies. I've partnered with Neturogena for a unique giveaway. Here are the deets: Three (3) lucky winners will win one (1) individual consultation with a Neutrogena expert along with a year long supply of Neutrogena products valued at $1,000! Winner, winner, chicken dinner!!
It's super easy to enter, all you have to do is post a selfie on Instagram using the hashtag 
#NeutrogenaSelfie
 and submit the link of your selfie to this
 Rafflecopter giveaway
. The giveaway ends August 29th. If you need further inspiration, make sure you are following me on
Instagram
and you'll see my selfies for this challenge posted every day this week.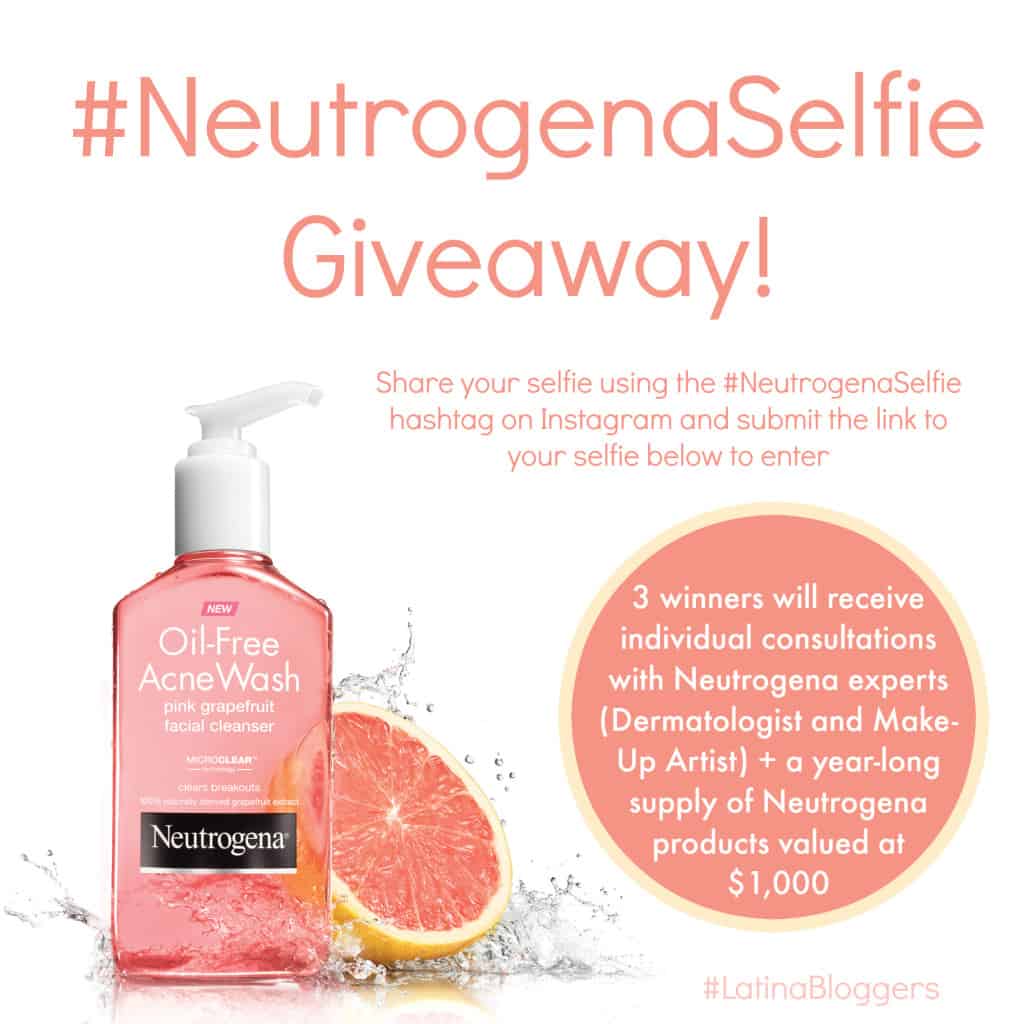 Good Luck lovebugs!!