If you know me or have been following me at all online, you know what a car fanatic I am. During Hispancize last week in Miami, I had the change to get behind the wheel of a new Scion FR-S while zipping around the 305 with my good pal and YouTube All-Star Jorge Narvaez. It was not only compact but really great on the MPG!!
As we were sightseeing, we couldn't resist snapping this shot against the beautiful skyline downtown!! Doesn't it look like a painted postcard?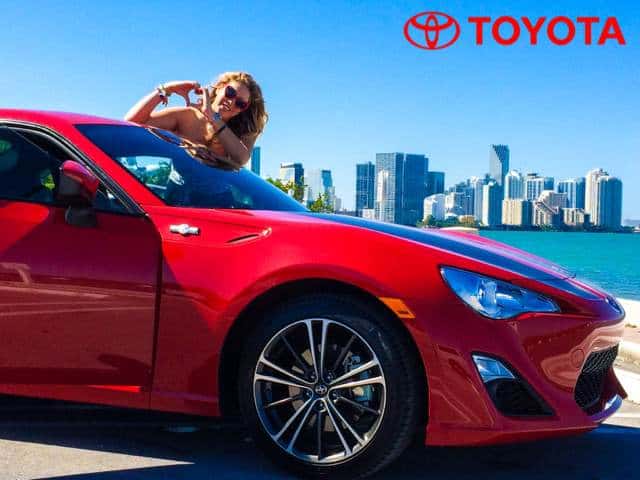 Now that I'm back in California, I'm already itching to go on another test drive! Lucky for me, the  New York International Auto Show is happening April 18th – 27th and I will be hosting the pre-show Girls Night Out Party with She Buys Cars!! I can't tell how excited I am to not only see the cars on display but to connect with fellow car enthusiasts in heels. Will you be there? Send me a tweet and let me know. I would love to connect in person.
She Buys Cars is kicking off all the fun with a Twitter party on April 14th at 9pm. Join us by following the hashtag #NYAIS & make sure to say "hi"!
RSVP by clicking the link and you will be entered to win tickets to the show: http://bit.ly/1kSwI3B
For more information about the New York Auto show visit http://www.autoshowny.com
And of course, if you are going to the show, let's connect in real life!! Find me and take a #selfie together and tag #xoxolizza & #shebuyscars and you'll be entered to win a special prize pack!!
This post was sponsored via SheBuysCars, and sponsors Toyota and Dr. Oz Magazine.