UNLEASH YOUR INNER DIVA AND GET READY FOR YOUR CLOSE-UP USING MARY KAY PRODUCTS.
This is part of a compensated campaign with Latina Bloggers Connect and Mary Kay. However, all opinions expressed are my own.
As a proud Latina in Hollywood, I am super excited to bring you a behind-the-scenes look from the new Univision webnovela Arranque de Pasión.
I love many things in this life and love to share them all here on the blog. Among them, my passion for all things new media and beauty is no secret for those of you who are regular readers or follow me on Twitter. So the fact that I get to speak about both of them in ONE post is pretty awesomesauce if I do say so myself.
As if that wasn't enough, legendary Latina beauty Kate del Castillo, is not only starring in this webnovela but she's directing AND producing. Can we say #PowerLatina!! Bam! Handling business like a boss!
Now you see, in a town where women directors are far and few between, seeing one taking the reins and running with it is inspiring.
She's also trailblazing a path for Latinas who are looking to make waves in Hollywood. She's wisely using new media to present a protagonist who breaks the mold of what the general market thinks a Latina is. You won't see any of the women leads playing maids or nannies, which is so refreshing!!
In this Spanish language webnovela, Kate del Castillo portrays Ela, who is a talented NASCAR race driver who has been taking a back-seat to her long time boyfriend, Jordi, played by Christian Meier. They both race on the same team though Jordi has made it clear to Ela that "her job" is to cover him so he can take the lead and win the races for the team. Clearly he didn't get the memo, in 2013 no one puts a Latina in the corner…no matter how cute you are!! Am I right ladies?
The man that helps Ela blossom and come into her own is none other than Jordi's brother, Checo, played by papi chulo Carlos Ponce. As you probably guessed, the drama ensues from there with love triangles, villains and plot twists galore. Cue the dramatic music here.
Eek!! Just talking about novelas reminds me of my childhood when I used to watch them with my Abuelita. It's like a right of passage for every young Latina. One thing you can always count on a novela to deliver is eye candy for both men AND women and for the women to always look IMPECCABLE head to toe. And Arranque de Pasión doesn't disappoint. You can tune in and watch each of the 5 minute Arranque de Pasión, La Historia de Ela episodes on Univision.com by clicking here or you can tune into Univision on Sunday, May 5th at 7pm PST and watch the novela in its' entirety.
Even Marité, who is the webnovela's villain and played by the uber sexy Gaby Vergara, looks like a rockstar!! And thanks to Mary Kay, I have the low-down on how you can recreate Marité's classic beauty look for yourself.
GET THE LOOK:
Marité's go-to evening look reflects her bold personality yet highlights her classic beauty. As you can see below, her eyes are defined with liquid eyeliner (in black) and super sensual lips (in "firecracker" red) that make her stand out in any room she enters.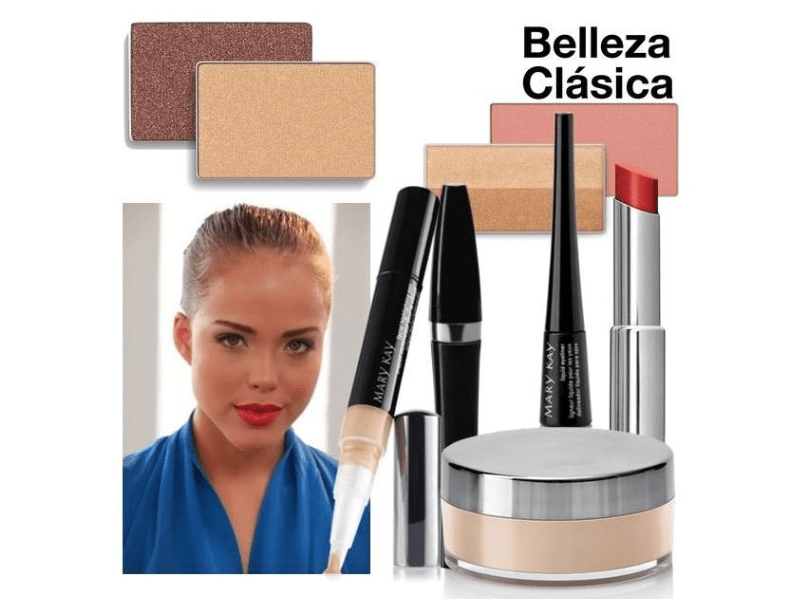 The following Mary Kay products were used to create this sultry villain's classic look:
Mary Kay® Facial Highlighting Pen in Shade 2
Mary Kay® Mineral Powder Foundation in Ivory 2
Mary Kay® Liquid Eyeliner in Black
Mary Kay® Mineral Eye Color in Truffle
Mary Kay® Mineral Eye Color in Honey Spice
Mary Kay® Ultimate Mascara™ in Black
Mary Kay® Mineral Bronzing Powder in Desert Sun
Mary Kay® Mineral Cheek Color in Strawberry Cream
Mary Kay® True Dimensions™ Lipstick in Firecracker
Mary Kay sent me the items listed above to unleash my inner Marité and I'm thrilled with the results. Seriously, someone call Carlos Ponce and let him know I'm ready for my close-up scene with him!! LOL!
Let me know what you think of my interpretation or if you have questions about the products in the comments below. (Psst… keep reading to find out how you can win this look!!)
Now you may be wondering why Mary Kay is the one with all the answers? Well let me tell you. Mary Kay is the official sponsor of Arranque de Pasión, La Historia de Ela (Take off with Passion, the History of Ela). And much like Ela, Kate del Castillo's character, emerges a new woman at the end of the series, Mary Kay has also revamped their look and many of their products. Classic faves like their oil-free makeup remover, which I'm obsessed with, are still around. However, new products have been introduced to the family, like the Mary Kay Makeup Finishing Spray by Skindinävia.
If you aren't familiar with Finishing Sprays, pull up a chair and let's talk!! YOU NEED THIS IN YOUR LIFE!! As someone who is constantly on the move, whether shooting on set or running errands, makeup finishing sprays have been a priceless discovery. You literally set it and forget it!! It holds your makeup in place for hours on end. After trying several of them over the years, my favorite ones are made by Skindinävia. So I was over the moon when I found out that they had partnered with Mary Kay to create a formula that works on ANY skin type and was clinically tested for skin irritancy and allergies. You'll find it dries quickly, never feels sticky and yet comes off super easily at the end of the day. You can kiss makeup meltdowns goodbye with this bad boy. You can send me a tweet and thank you me later. 😀
As the official sponsor of the webnovela, each character has an established look and you'll see them using Mary Kay products throughout the series to create it.
Fun Fact: Mary Kay is also a sponsor of Ela's race team. The number 63 you see on Ela's race car is an homage to Mary Kay, who is celebrating 50 years, and was started back in 1963.
In addition, Mary Kay has teamed up with celebrity makeup artists Luis Casco and Mariela Bagnato to create a series of videos in Spanish. In each video, you'll see one of them sharing their favorite tips when creating the character inspired looks.
Here's the one Mariela Bagnato created for Marité's Classic Beauty Look:
If you are interested in purchasing any of the products I mentioned or some of your personal faves, please contact your Mary Kay Independent Beauty Consultant or connect with on MaryKay.com
Now as you know, I livveeeee for paying it forward. So I am thrilled to announce that the kind folks at Mary Kay are giving one lucky reader a box filled with all the products listed to create Marité's Classic Beauty look.
Good luck beauties!!