EEK!! Lovebugs, like it or not 2015 is just whizzing by and summer is just around the corner. Can you belive it? And this year summer kicks off on the same day as FATHER'S DAY!! Obviously, even Mother Nature recognizes how important celebrating that special Dad in your life is too. Woot! Woot! Clearly, this calls for a bigger celebration than usual but one that is easy on your wallet and time. Luckily, my friends at Sears came to the rescue, just like they did for Mother's Day and have made Father's Day shopping a cinch.
Sears truly is the destination for Dad this Father's Day, with great gift ideas that celebrate the things that make him special. Does your fashion faux pas Dad need a wardrobe upgrade? Does your grill-master Dad need to spruce up his outdoor living space? Or does your DIY Dad need new tools and place to use them? Or does your sports fan Dad need a better TV to watch his games on? Whatever the need, Sears is here to help both at their brick and mortar stores and at Sears.com
MY CHALLENGE:
If you've been following my #LizzaOnTheGo adventures on any social platform these last few weeks, you will have seen that I was in not one, not two but 5 countries!! Needless to say I've been a busy bee. Luckily, Sears.com not only makes it super easy to browse and buy that perfect item for your Dad, delivery is super easy. You can choose to either have it shipped or arrange for a local store pick-up. This is a PERFECT option, if like me, you don't live near that special Dad you are shopping for or you know that his taste in color is particularly picky. LOL! Here's the kicker, your Dad doesn't even have to get out of the car if he doesn't want too.  That's right, in select locations, Sears now has curbside delivery available. And if they don't bring your items to your car within 5 minutes, you get a $5 coupon good for your next in-store purchase!!! 
PRO TIP: As a member of Sear's free SHOP YOUR WAY REWARDS program, you not only get a bunch of discount coupons with each purchase but you get "points", which really translates to "store credit, that you can then use for a future purchase. In addition, there are several 'members only" prices for items, both in store and online. And that's not even mentioning the random flash sales  I often see on the site or cool contests they host.
Actually, if you become a Shop Your Way Rewards member right now, you can enter the Battle of the Beards Father's Day contest for your chance to win a trip to Craftsman MAKEcation! Once entered, all you have to do is makeover something for your dad or man and share their before and after photos using #DestinationDad! And just like that, YOU could win a trip to Craftsman MAKEcation in New York! Get more details at shopyourway.com/Beard
Ok, so once I knew where to shop, my challenge was clear, it wasn't figuring out what to buy, it was convincing my Dad it was time to upgrade his Samsung TV!!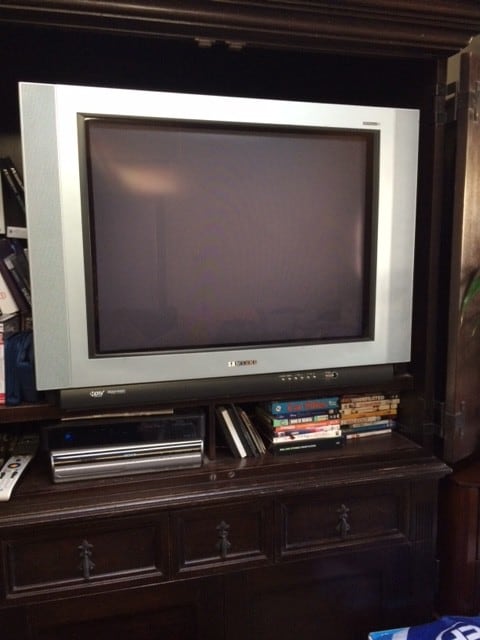 As you can see for yourself, this TV looks like it belongs in the Smithsonian more so than in a family room. I should count my lucky stars that at least we don't have VHS tapes out in display…though I'm pretty sure they are packed in a box somewhere. Oh mylanta!! I must admit, I understand the reasoning for wanting to keep the TV, "if it isn't broke, why fix it"…or in this case, replace it.
Thanks to my friends at Sears, I was able to turn into the "Tech Fairy" and deliver the conditions that Dad require for me to replace the tv:
1. It must be a SAMSUNG. As proved by this relic, Samsung had not failed over the years and he would rather keep the old one than switch to a different brand.
2. It must be a no-fuss process. In other words, he didn't want to deal with the downtime, installation or delivery of the TV.
3. It must fit in the current entertainment center.
4. It must be state-of-the-art. Since we were taking the time to switch out the tv and the new one would clearly be a member of the family for years to come, he wanted top of the line.
5. It must be cost effective.  Even though it was going to be a gift to him, he didn't want me spending money on something overpriced when he was perfectly happy with his current tv. What a lovebug right? By far, my favorite conidition.
THE RESULT:
Once I had all "conditions" in place, we made the agreement  and the trade-out was a sealed deal. In full disclosure, I was gigling on the inside, since I knew Sears could meet each of these conditions without a blink.
Solution 1: Sears has a LARGE selection of Samsung tvs to choose from. To be fair, they also have a variety of other brands but since condition #1 was that I stick to Samsung, that is where I spent my time researching.
Solution 2: After purchasing the tv, I found out it qualified for FREE DELIVERY!! Yasss!! How's that for a bonus. So purchasing the installation for $99 was a no-brainer. Aside from that, the only thing left to buy was a set  of HDMI cords, which only cost $15. Easy peasy. Once purchased, a Sears associate calls within 24 hours to schedule the delivery. This is literally the only work Dad will have to do.
Solution 3: Priot to coming to visiting Sears, I made sure to take the width and diagnol measurements of the entertaiment center. Even though we had a fixed area the tv needed to fit in, I wanted to make sure we could get a screen as big as possible for the space. Since I didn't know what that would be, I shared the measurements with the Sears Associates and they very quickly determined we would be looking at a 48″ tv. Luckily, since all the current Samsung TV's are really slim in size, the depth wouldn't be an issue. In fact, once installed, there is plenty of hidden storage room behind the tv.
Solution 4: Samsung is known for delivering state of the art products and their tvs are no exception. Once I knew I was shopping for a 48″ Samsung tv, I still had five options to choose from. At this point I felt like Goldilocks. Did I want a curved tv? Did I want 3D? Did I want LED or SUHD? While all of this seemed Chinese to me, Anees and David, the Sears associates helping me, couldn't have been more knowledge, patient and helpful. After some discussion, we narrowed it down to two: Samsung 48″ Class 4K UHD LED Smart HDTV and the Samsung 48″ Class 4K SUHD 3D LED Smart HDTV.  But really, it wasn't that hard picking one, once I factored in Soultion 5. 😀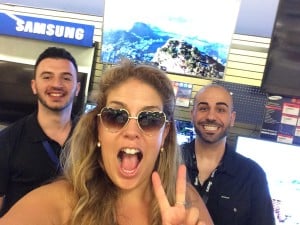 Solution 5: Now that I had narrowed down my choices, I needed to figure out which one would give me a bigger bang for my buck. And I have to say because of the great deals that Sears offers, I would have been happy with either purchase. However, seeing that the 3D version was a $1,000 off AND it was well, 3D, upgrading to the higher model was the obvious choice.
And FOR THE WIN:Remember how I mentioned earlier that you earn "points" (aka store credit) with every purchase? Well, this purchase gave me $225.00 in Shop Your Way points, which basically means I scored a pretty sweet shopping spree for FREE. Stay tuned lovebugs, as you'll definitely be seeing me rocking the items I pick up in an #ootd post real soon.
As I mentioned, this Father's Day, Sears is focused on helping shoppers rediscover Sears as THE destination for Father's Day, with more gifts he'll love both on Father's Day and year-round.
UPDATE ON JUNE 19th: 
I had so much fun shopping for my favorite Father's Day gift ideas, I couldn't keep all these great finds to myself. Check out some of my favorite #DestinationDad finds I shared during my "Last Minute Father's Day Gift Ideas" segment on CBS affiliate KBAK's morning show Bakersfield Now:

For more information, current pricing or to purchase the items I mentioned in the segment, click on the photo below.
So whether you're looking to makeover your Dad's look or where and how he spends his time, Sears has the largest assortment of gifts for Dad under one roof, so you'll find just the right gifts for all the dads in your life and at all diferent price points to fit your budget. With their different delivery options, last minute shoppers rejoice and visit: sears.com/DestinationDad get your shopping done TODAY!!
 Lovebugs, let me know what dream item YOU would get for the Dad in your life in the comments below or send me a tweet.
Sending you smiles across the miles and wishing you all a fantastic Father's Day!!!