Here's a quick rundown of my favorite products I went through in the month of February. I still can't get over the fact that it's March already!! I swear having a shorter month totally makes it seems like the year is flying by even quicker than normal.
FEBRUARY EMPTIES: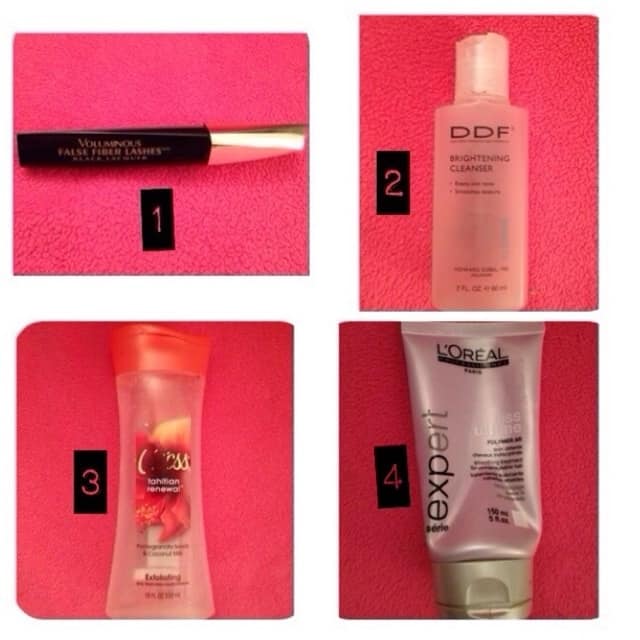 THE BREAKDOWN:
1. L'Oreal's Voluminous False Fiber Lashes mascara: Since getting it in my Latin Grammys giftbag, I seriously haven't been able to put this puppy down. I use it on the daily to give my lashes an extra umph thanks to the sculpting fiber formula that sticks to your lashes. When using this bad boy my lashes do indeed appear fuller and longer. I found the mascara to be clump-free, flake-free and smudge-free. THREE CHEEARS FOR THAT!! It retails for $8.99 at ULTA and is definitely on my makeup shopping list this weekend.
2. DDF Brightening Cleanser:  This is another product I have fallen in love with since first use! It's a special blend of six NATURAL skin brighteners in a foaming glycolic and salicylic gel. After repeated use, you can see it noticeably minimizes uneven skin tone and it gently target age spots. You can use it on the rest of your body as well. Added bonus, it takes the red out of any blemish discoloration you may have after a facial or popping a zit at home when you know you shouldn't have. 😀 I may or may have not done this. LOL The full size bottle retails for $39.00 at ULTA. I just had the sample size that I received in a giftbag and couldn't believe it took me this long to discover it. I just loovvee it.
3. Carees's Tahitian Renewal Body Wash: Seriously, where do I start with this one. The smell is sooo darn yummy. It's like a mix of everything tropical and just screams summer!! It has tiny little beads which exfoliate your body as your scrub down. I use my hands but you can just as easily use it on a puff. It gets a nice lather going and leaves you feeling squeaky clean. The bottle will last you for a good couple of months as well. You definitely are getting the biggest bang for your buck here.  It sells for about $5.00 at Rite-Aid.
4. L'Oreal Liss Ultime Polymer AR -the Expert Serie: This is LEGIT one of the secret weapons I use on my hair. I'm constantly getting stopped on the street and asked what it is I use on my hair. If you have a lot of hair or thick hair or if you're like me and have both, this is a must-have in your beauty cabinet. It is a fabu smoothing treatment for "unmanageable hair" which nourishes, smoothes and protects your hair against humidity!! Hello, can I get a fist pump for this one. It works double-duty so you don't have to. It's super easy to use too. After showering and detangling my hair I throw a couple of squirts of this on my hair and style as usual. I literally have two of these on hand at all times. One in my shower and one on my bathroom counter. So I don't run the risk of skipping a day of using it. It retails for about $24.78 from Mars Hair Studio. If you tell them you are getting one of "Lizza's Faves" you'll get a 10% discount for ordering. How cool is that. 😀
What did you empty this month? I'd love to know your hits and misses.
Till next time, sending you smiles across the miles!!