Personally, 2011 was definitely one for the record books and I can't put into words how grateful I am for your support for each of my projects (whether in film, tv, stage or the interwebs) as well as for the different nonprofit organizations I support. Whether it was by going to see something I'm in, sending me a message, making a donation, retweeting or sharing a post or simply following and "liking" me, all these acts of kindness have truly meant the world to me!!
As a token of my gratitude, I want to giveback to YOU for supporting me throughout the year and spread some holiday cheer!!
So alas, I'm hosting my FIRST ANNUAL "Feliz ChrismaKwanzaKah" GIVEAWAY!!!
As you know, the holiday season is officially in full swing with December being full of festivities ranging from "Ugly Sweater" and "White Elephant" shindigs to "Cookie Exchanges" and "Tamale Making" partays!! All of this of course is to spend a little time with friends and loved ones in celebration of Chanukah (starts 12/20), Noche Buena (12/24), Christmas (12/25), Kwanzaa (12/26) or if you are really lucky all FOUR!!
Since it's a little tricky figuring out who celebrates what, I decided to go with the festive "Feliz ChrismaKwanzaKah" instead of plain ole' "Happy Holidays"…as you probably know by now, I don't do plain peeps!! LOL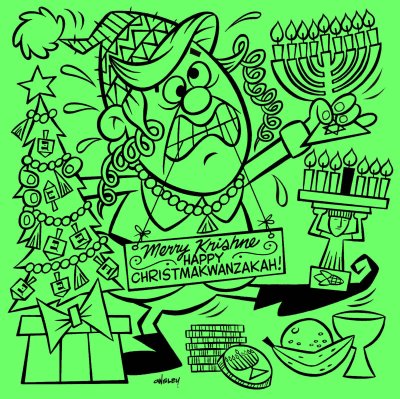 Okies, you ready to win? Here's the 411 on how to enter: (hint: Do the BONUS activities and score EXTRA entries!!)
*Contest open to US residents only.
Alright, now that you have the deets, don't just sit there ENTER..lol 🙂 Retweet often and remember to hit my fan page and post your Holiday Cheer pics!! The uglier, tackier, crazier or even most adorable the better..but let's keep it PG folks!!
MWAH!!!
xoxo,
Lizza