EEK! Alright ladies and gents, my laces are strapped, playlist set, my goo is packed and I'm ready to rock n' nun!! This Sunday, marks a pretty significant milestone in my life as I take on my FIRST MARATHON ever!! (Someone cue the trumpets.) Seriously, as someone who as of six weeks ago would only be caught dead "running" to a shopping sale. So making the decision to run the Nike Women's Marathon in San Francisco was pretty epic. Now don't get crazy, I didn't totally lose my mind…not this year anyway. LOL! I'll be running the 1/2…aka 13.1 miles. If all goes well, who knows maybe one day I"l be able to play with the big kids and run the full 26.2 miles. In the meantime though, my plate is pretty fully just training for the half.
Nike Women's Marathon in San Francisco, California is the largest woman's marathon in the world, and the 2013 run marks the 10th anniversary. Believe it or not, the majority of the 30,000 registered runners are women BUT there are a few good men among us as well!!  As I mentioned, I will be running the half this year but there is also a full 26.2 mile certified marathon course available.  If you are looking to qualify for the Boston Marathon, you can do so on this USATF-certified course. But let me pass on the warnings I've heard, this course is quite hilly and difficult…so just be ready!
As the little blue and white box on my pinkie nail hints, our "medals" are made by Tiffany and Company. (Insert sigh here…hee, hee) Oh & did I mention they'll be "served" at the finish line on a silver platter being held by firemen in tuxedos!! How's that for extra incentive to make it to the finish line? 😀
The course kicks off in Union Square and from what I'm told takes you on a pretty scenic route through the streets of San Francisco, including a few miles by the Pacific Ocean.
Now, apart from the custom "We Run SF" Tiffany's necklace created for all the finishers,  you might be wondering what all these crazy women (and a few good men) are running for. Simply put, an amazing cause. The event raises funds and awareness for the Leukemia & Lymphoma Society.  Over the last ten years, there have been 250,000 runners and $143 MILLION DOLLARS raised!! How freaking awesome is that? I just love it!! Many of the runners registered come through the Leukemia & Lymphoma Society's Team In Training program. You can find out more about them and how to get involved with one of their nationwide chapters by going here.
As I start packing for my trip, there are a few key essentials I'll be bringing with me.First and foremost, is my Nike+ Fuel band, which is such a subtle reminder to keep your body moving throughout the day.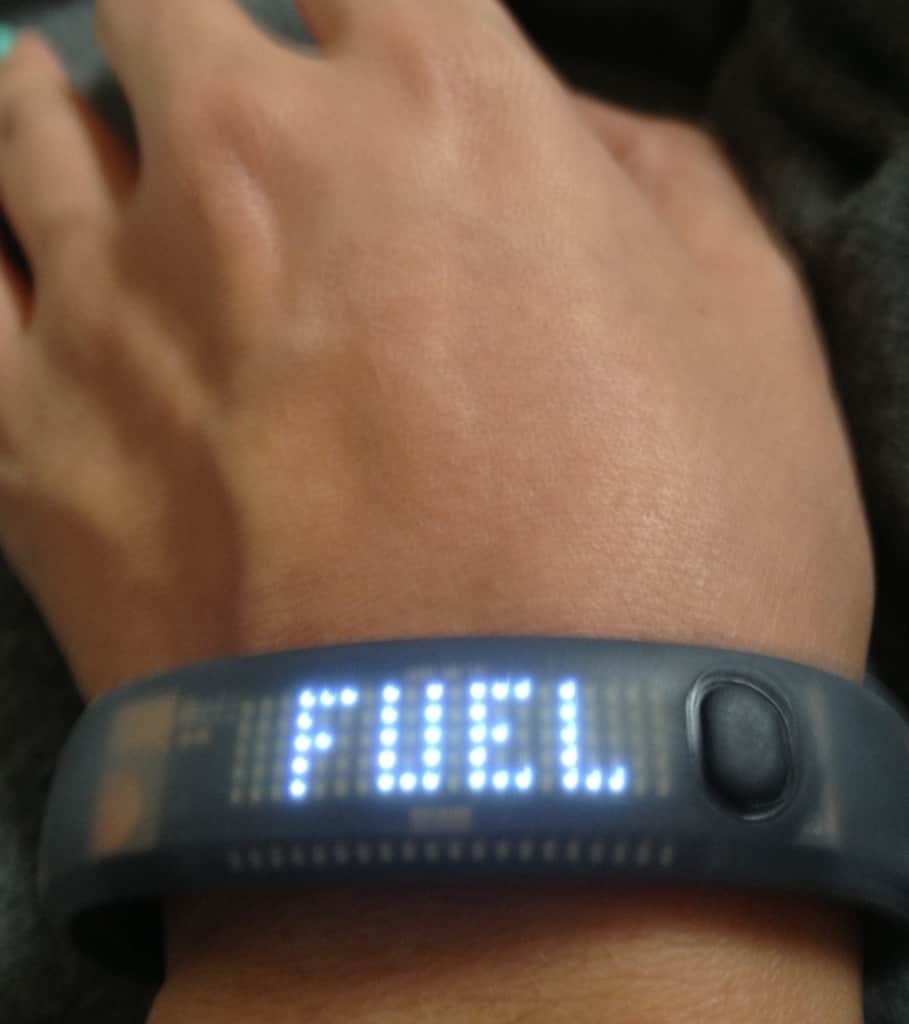 Once you put this bad boy on, it automatically tracks your physical activity, counts your daily steps and calories burned! It' super easy to use and totally helpful. Just when I thought it couldn't get better, it did!! LOL.
Leave it to Nike to keep one-upping themselves. The latest version, the Nike+ Fuel Band SE ($149) allows you to sync it to your smart phone, get cheers from friends and enter game like challenges. And for your fashionistas out there, did I mentioned you can customize the color band you want?! LOVES IT!! In addition to the classic black, you can choose from a pink, neon yellow or blue band. I'm not going to lie, if my piggy bank could afford it, I think I would totally scoop one up in each color. LOL.  You can get yours here.
Aside from my trusty Nike Fly Knits, which I've trained in every day since I started this marathon journey,my second must-have item is my Nike+ Sportwatch GPS powered by TomTom ($169). I seriously can't say enough good things about this watch, however in hindsight I would have gotten in black since I've found it quite difficult to keep my white one super clean. It takes on the ink from whatever clothes you might be wearing and for the life of me I can't scrub it off. If you have a tip on how to remove stubborn stains, PUHLZ leave me a comment below. Anyhoo, I digress….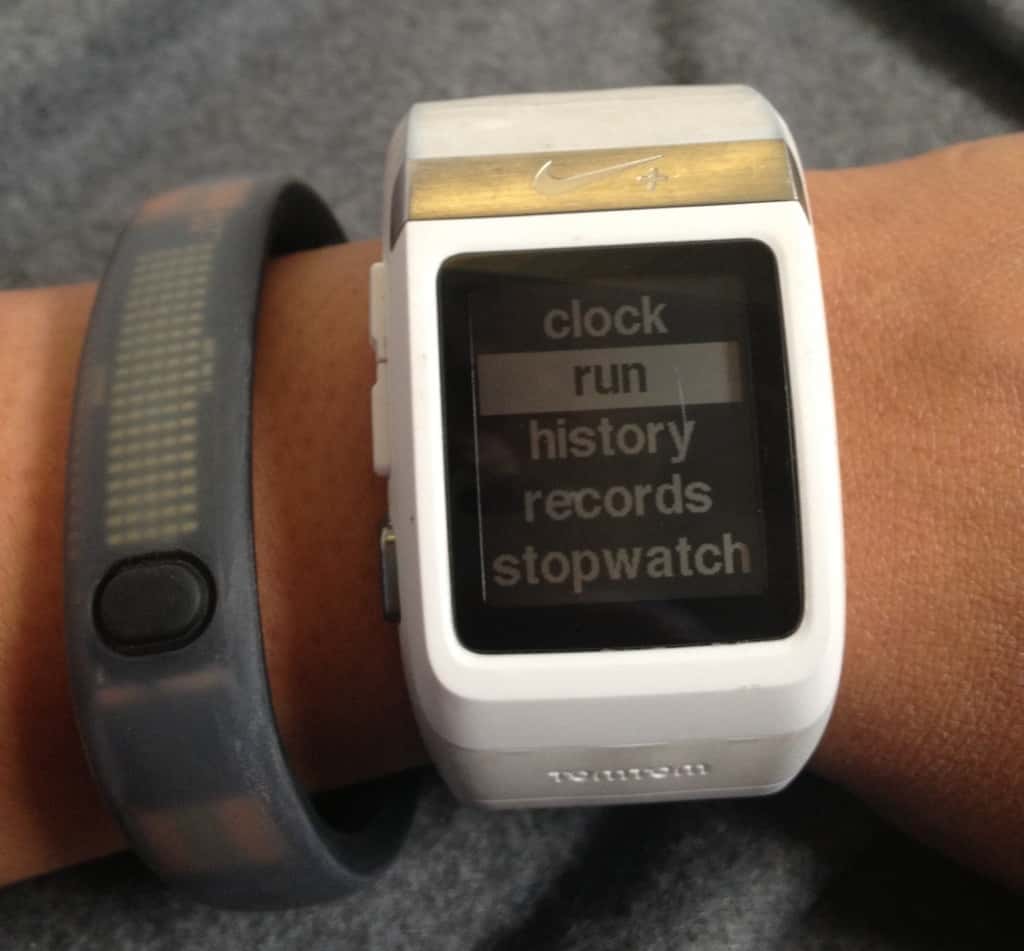 My Fly Knits and watch are literally like two peas in pod. You can use just the GPS system on the watch itself or drop the Nike+ sensor ($18.99) into your shoes and connect that to your watch itself. I like doing both, just so I have all my bases covered. LOL. But you totally don't have too.
The GPS system tracks your run, keeps a history of your runs, calories burned, figures out your pacing and unlocks the Nike+ community online. It also gives you automatic run reminders to keep you motivated and your eye on the prize!!
I will say that sometimes it takes a little longer than I'd like for my watch to register with the satellite but it's an easy fix. If I really am anxious to get running, I just start up my Nike+ Running app (Free) on my iPhone as well and go. And then as soon as my watch is ready, I just hit start and let it do it's thing. 😀
Speaking of the Nike+ Running app, it's been updated just in time for the race. The new update allows you to take a picture before, during and after your race and post it on your social networks. It knows to "pause" your time while you take your selfies and then automatically starts back up again when you get those legs moving. Pretty sweet right?!
Now running gadgets aside, one of my personal must haves on a long distance run is MUSIC!! I've created a specialized playlist just for #WeRunSF that I figure will keep me pumped as I encounter those hills I keep hearing so much about. EEK! Fingers, toes and eyeballs crossed that my plan works. 😀 When you're running, less is more, but in the case I decided instead of just "running" the playlist off my iPhone that I would download it onto my iPod shuffle. This way I can save as much battery power on my phone as possible for important things like pictures, videos and social media updates..lol
As far as my race day outfit, I have a few options in mind but I still haven't finalized my final outfit. Especially after taking a look at Nike's  Fall/Holiday look book.  Since it does get chilly in San Francisco, I made a fun wishlist:
I'm really digging the Nike District 72 Pullover Hoody ($65)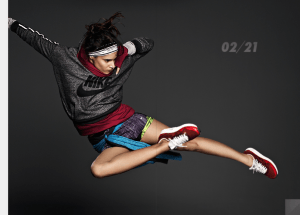 the striped Nike Pro Bra ($30)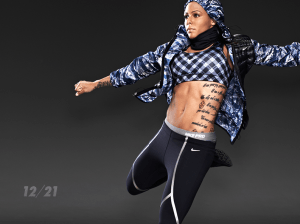 while wearing the Nike Favorites Striped Tank (not yet released) on top and then on the bottom I'd either rock the Leg-A-See "Just Do It" tights  (not yet released)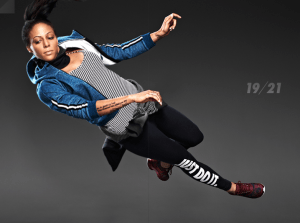 the make-your-booty-pop Nike Sculpt tights ($110)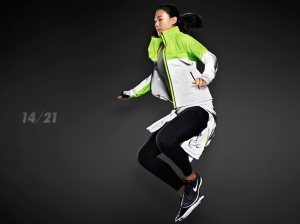 or for a pop of color the Nike Luxe Running Tight (not yet released).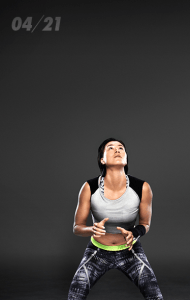 And I feel like the Nike 800 Aeroloft Vest ($180) would be a welcome sight post race. It's super lightweight, yet it does the job of keeping you warm and is totally adorbs!! I'm in love. LOL!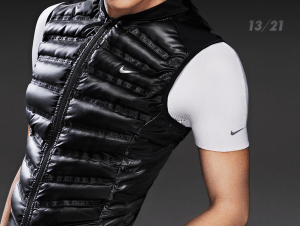 Alas, for now these pieces are definitely just being added to my Christmas list but a girl can dream right?! Lol.
You can take a look at the rest of the look book here. What pieces are making you swoon? What are your must have essentials when running?  Let me know in the comments below or send me a tweet.
Also, you can follow me along on my first marathon adventures from start to finish by visiting me on Instagram.
I'll see you on the flip side as an official FINISHER!!! Woot! Woot!