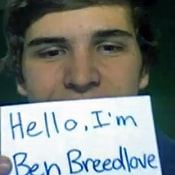 I truly believe that inspiration is all around us, we just have to be open to receive it. And often times, the best inspiration comes from the most unlikely places. Which is the case with the following two part video:
PART 1:

PART 2:
Since watching these videos last night, I haven't been able to stop thinking about them or about the young Texas teen, Ben Breedlove who made them. It will be the best 8 minutes that you spend today. Take the time to watch them. Trust me!!
Though the first video starts out with Ben smiling and looking like your average American teen, we quickly find out that there's more than meets the eye.
Ben uses a series of recipe cards to share his story of living with a heart condition and his experiences of cheating death three times!!! The way he speaks about a topic that is very difficult for most adults, let alone teens to discuss leaves you speechless. He's calm, straightforward and honest about his experiences and what they could mean. Which is what makes it so captivating and heartbreaking at the same time.
To simply say his 2-part-video has gone viral, would be an understatement. In less than 24 hours, this video has been viewed by over 1,325,970 people around the world. Why all the hype? Unlike many YouTube videos that go viral, this one is about a laughing baby, a dancing dog or a talking orange.
Not to say those kinds of videos aren't entertaining, because they are. But Ben Breedlove's videos belong to a growing niche on YouTube..the videos that will not only inspire you to change the way you think, start a movement or simply be grateful to be alive.
Much like Jonah Mowry, who I previously blogged about here, Ben Breedlove is making an impact on the world on 'click' at a time. Too bad he isn't here to see it himself.
Ben,18, died on the night of Christmas Day from a heart attack, just a week after posting his two-part "My Story" videos on TotalRandomness512, one of three YouTube channels this high-school senior started. The popularity of his other two channels, OurAdvice4You (with over 60,000 subscribers) and BreedloveTV (with over 20,000 subscribers) points to what a rising YouTube star he had already become.
Ben had been diagnosed at an early age with hypertrophic cardiomyopathy (hcm), a thickening of the heart muscle which makes it difficult for it to pump blood. As a result that were certain things he wasn't allowed to do that his friends could.
In the video, one of the cards he shows reads: "I was never allowed to play all the sports that my friends did. It kinda sucks that I missed out on that part of my life. I really just hoped that I could be the same as everyone else."
It's ironic really, that the thing that made him "different" is what has captured global attention and left an imprint on the hearts of many…mine included. I also don't think his last name "Breedlove" was a coincidence. Ben very clearly "Breed(ed) Love" not only through his smile and positive outlook on life but now through his videos which will continue to touch the lives of people everywhere.
Among them Ben's favorite rapper, Kid Cudi, who he mentions affectionately in Part 2 of his video.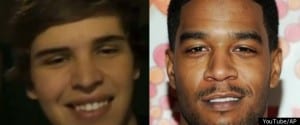 After watching the video him, Kid Cudi posted to following on his blog: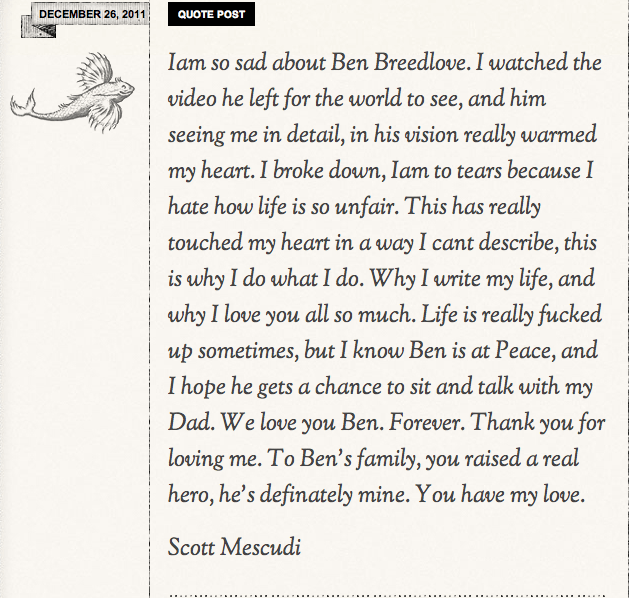 (source: http://cudlife.tumblr.com/)
Like Cudi, I am grateful to Ben's parents for raising such an inspiring young man. But I also believe Ben's parents were truly blessed having him as a son!!
I only wish Ben would have been on Earth longer than his abbreviated life to continue to inspire and lead the way as he already was doing. But, I've come to realize Ben Breedlove was the very thing he asks his viewers to believe in at the end of the video…an ANGEL!!
Ben, I'm hoping you can hear me in Heaven…I BELIEVE!!
Thank YOU for sharing your story.
May you be at peace in Heaven, now that you personally know "When will the fantasy end? When will the Heaven begin?" and may Kid Cudi's "Mr Rager" be blasting loudly up there just for you!
xoxo,