First off, happy 1-11-11!! Waking up today, I felt that the special day called for an extra wish from the binary powers that be. Well ladies and gentleman, one of my long time wishes was finally answered when Verizon officially announced today that they will begin carrying the iPhone starting in February!!! Whoo hoo.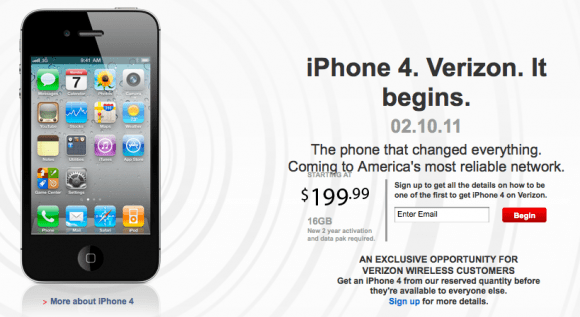 Now for those of you interested in getting the phone right away, the good news is that Verizon is giving current customers first dibs and will allow them to pre-order their phone on February 3rd. To make sure you are in the loop, make sure to register your account online clicking here. Everyone else will have to wait until February 10th to buy theirs.
Here's the breakdown on everything you need to know about the Verizon iPhone:
1. It will be the CDMA version of the iPhone 4 that was released last June on the AT&T network.
2. There are some pretty sweet Verizon only special features- My favorite is the 3G mobile hotspot. For those of you already on the Verizon network, this is the same amazing feature you can currently get on your DROID 2, DROID X and the Verizon Mi-Fi.  Essentially, this feature lets you use your 3G phone to tether your Wi-Fi connection with up to 5 devices, including the Verizon iPad .
3. There will be 2 phones to pick from: a 16GB version with a $199 price point OR  the 32GB will carries a price point of $299 Both phones of course come with a new 2-year contract. But for those of us who are already loyal Verizon customers, this isn't a big deal….it's a mute point actually.
Now here's the downside:
1.While the Verizon iPhone does reflect a redesigned antenna, the antenna drop is still an issue.
2. In order to accomodate Verizon, it needed to change the redesign of the phone slightly to adapt to the CDMA network.
3. Being on the CDMA network points to one big drawback = the ability to multi-task calling and using data at the same time is not a possible!
4. Apple is notorious for releasing their new products during June or July of every year. What is presumed to be on deck this year is the iPAD 2 (with a possible camera…eek!) and/or the iPhone 5. And since we all know first generation gadgets of any kind always have kinks that need to be worked out, holding out for the iPhone 5 on the Verizon network might be the best match made in heaven….I mean what's another 5 months, when we have been waiting over 5 years for the iPhone to come play in the Verizon sandbox?
What do you think, will you wait to get the phone or will you need to have it right away?
xoxo,
Lizza