Since watching this teaser video back in January, I've been dying to get my hands on the Disney Jasmine Collection by Sephora!! This is the second in the "Princess" series and comes hot on the tails of the successful Disney Cinderella Collection. It's rumored that Princess Ariel will be next but let's not get ahead of ourselves. Though I must admit, I already have. LOL!!In the meantime however, we have some exciting products in the Disney Jasmine Collection to keep us busy.
I had the pleasure of attending the line's launch party earlier this week at the Sephora inside South Coast Plaza. It goes without saying that I totally felt like a kid in a candy store.
We were treated to a Princess Jasmine inspired eye-makeover using the colors from one of the two eyeshadow palettes. The look was topped off with black liquid eyeliner to recreate Princess Jasmine's signature winged eye.
We were then escorted over to a pop up nail station where we could pick one of the six nail polish colors exclusively designed by OPI for the collection. Arianna and Gabby were the two nail technicians on hand to minimize the waiting time. Let me tell you, they both were rocking some killer nail art designs so I felt I was in great hands.
SIDENOTE* I actually wanted to bring Arianna home with me and keep her in a little bottle and let her be my daily nail genie. Is that weird? Seriously though, if you are in the Orange County area you should totes book an appointment with her and you'll see what I mean. (And if the FCC is reading this, no I don't know her or is this sponsored. I just really love seeing women following their passion because it shows in their work. And of course I love that they were both LATIN!!)
Annndddd we're back. So Gabby, who did my nails, was sweet enough to let me mix two colors: 'All That Jasmine' which as you can see below is a rich jade color and 'Dream Princess' which is the glittery color I chose to use as a topcoat. I really like the combo. What do you think? (Send me a tweet or post a picture on Instagram of your favorite Spring nail color combo using #LizzaGram)
I just loooovveee the fun names they came up for each item in this entire collection. The colors are supposed be reminiscent of a princess' jewels.
Shades include: Berry Tale Romance (vibrant orchid), Your Wish Is My Command (soft lilac), Fit For Royalty (deep plum), Dream Princess (glittering cinnabar), Aladdin's Girl (shimmery berry-copper) and All That Jasmine (rich jade).
Leave it to Disney to think of every last detail. Each product comes with a saying marked on the outside of the box.
The one for the mini nail polish set is "Wish For More Wishes". How cute is that?
If that wasn't spoiling enough, they also had Kimberly Rae L. Kha on hand who is a real life Disney Animator. As a gift with purchase, you received your very own Princess Jasmine sketch to take with you as well as a colored in one (which you can see above in the pic with my nails).
Here is the one Kimberly made for me.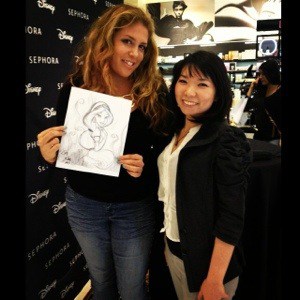 EEK! My inner 7 year old was doing a happy dance and I was doing all I could from jumping out of my skin and joining her. Lol! It legit took her only a few minutes to whip this out.
I was beyond impressed not only by Kimberly's talent but how sweet and humble she is. Can you believe she is only one of two female sketch artists in her whole department?! Talk about girl power. You can see more of the fabu work she does by visiting her blog here.
I was sad to see my visit through Sephora's Askabah inspired haven come to the end but they made sure to send us off with a smile. I received the coolest head tiara (which I totally plan on wearing on my birthday next month) as a parting gift. Sweet, right?
Don't worry, my momma raised me right. 😀 I also picked up one to giveaway so you too can channel your inner Princess Jasmine. Scroll down for the deets. 😀