This is a compensated campaign in collaboration with Cricket Wireless and Latina Bloggers Connect. All tips and opinions are my own.
4 Tips to Make Your Money Go Further and Create Your #MiFund
Lovebugs, when you hear the date April 15th, do you immediately break out into a dance party or panic in fear? Taxes, like change, are simply a part of life. And while I may not be over the moon for the "filing" part, I definitely break out into a victory dance when my tax refund comes in the mail. The excitement used to be short lived however, as sadly my "refund" was usually already claimed by a present bill before it arrived.
However, I learned that by making some small adjustments to the way I spend my money during an actual year, frees me up to actually enjoy my refund when it arrives. Now, I find myself planning what gadget or trip I'll be spending my refund on this year.
Here are 4 easy tips to help put AND keep more money in your pocket:
Create a budget
The first step to achieving any goal is having a road map of getting there. I know as a constant girl-on-the-go, my time is very limited. In the past, making time to create a budget was too "taxing" and so I didn't do it. But now, thanks to smartphone apps it's super easy to stay on top of your finances whenever and wherever.
One of my recent faves is the Toshl app, it's free and available on both iPhone and Android. In a nutshell, Toshl allows you to input your income AND expenses to make sure you are staying within your budget. If you are a fellow globetrotter, you will love the easy of entering your expenses in any currency and having Toshl automatically convert it for you.
This is just one several apps available to you to use. Alternatively, you can also do a search online for a "free household template."
The great thing about having a budget, is clearly knowing when you have "extra" cash. When you do, you might consider transferring it over to a savings account that pays more interest.
Ninja tip: Speak to your bank about automatically depositing a certain amount of your check every month to your savings account. By reviewing your budget, you will know what amount works best for you. You can always adjust if need be.
Avoid Bank Fees
Bank fees can add up pretty quickly. Do a little research and make sure to get a no-fee credit card and ATM card. Considering most fees are between $2 and $5 on every purchase or withdrawl you make, the time you spend researching is well worth the money you'll save.
Avoid Missing Payments
Late payments on your cell phone, credit cards, student loans or any other type of bill tend to incur some sort of "late fee". A simple way to avoid this is to automate the process. By using online and mobile banking, you can safely set up autopay. Which in the long run, not only saves you time and money but also gives you peace of mind.
Ninja tip: Some companies actually offer you a discount for signing up autopay. You can easily do a search online or speak to someone in their customer service and ask. Again, time is money. And if taking a little time to set this up, keeps more green in your pocket…you win!
Cut Down On Your Bills
Take a look at how much you are spending monthly on your cable, internet and cellphone bill.
I learned last year that with my constant travel schedule, it was a better choice for me to sign up for Netflex and drop down my cable bill to basic. As a result, I saved over $600 last year with just this one choice.
The same thing goes for your cellphone. Do you find yourself paying overage charges every month because you are going over on your data plan? Or are you just frustrated with how ridiculous monthly cell service plans have become? If you said "yes" to either, Cricket Wireless has just the solution.
Each of their plans offers you MORE bang for your buck. You not only get more high speed data packages on Cricket Wireless at the lowest prices I've seen, but all taxes and fees are already included in the price. Take a look below
Ninja Tip: If you make the switch to Cricket Wireless right now, you'll get a free month of service AND a Nokia Lumia 635 (pictured below) for free!! This is savings of over $150 that Cricket wants to put back into your pocket as part of their "MiFund" campaign.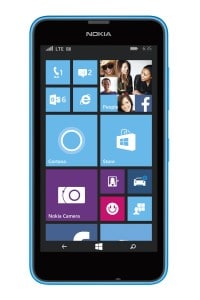 Basically, Cricket wants to help you avoid spending your tax refund on something you "need" so you have more to save towards something you "want" How much do we love that?! EEK!
There are over 3000 Cricket stores in the United States you can visit or head to http://www.cricketwireless.com for more info.
Either way, with Cricket and their #MiFund, you'll have several reasons to smile this tax season.
Lovebug Nation, are there any other money saving tips YOU think I should be using?
Send me a tweet or better yet "Save the Date" and join the Cricket Wireless MiFund Twitter Party on 2/24 at 8pm. I'll be one of the co-hosts and I'd love to hear how you save. You can RSVP directly here: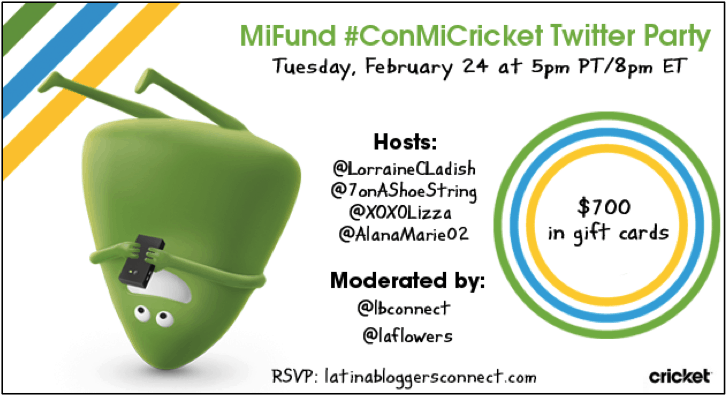 Til then, I'm sending you hugs and smiles across the miles!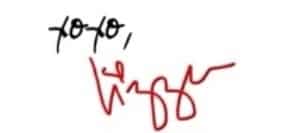 Pin It